Summer workshop Residency -Mermaid Arts Centre
Mon 15th - Fri 20th August
10.30am - 3.30pm daily
Price €160 Full Price
This summer Mermaid Arts Centre will be running a week long programme in devising theatre for actors with intellectual disabilities. This exciting week will be facilitated by Gemma Gallagher from Shadowbox and focus on exploring and devising theatre from our own ideas and reflections. We will use everyday objects to explore creating visual theatre drawing on instincts, thoughts and emotions. The week is a chance to work with new people in a fun and supportive way and will culminate in a public presentation on 20th August.
Bookings 012724030
NEW CREATIVE LEARNING PROGRAMME
for Service Organisations and Groups
We are now taking bookings for a new creative learning programme for 2016 in Theatre for groups and organisations working with people with Intellectual disabilities around Ireland facilitated by Gemma Gallagher.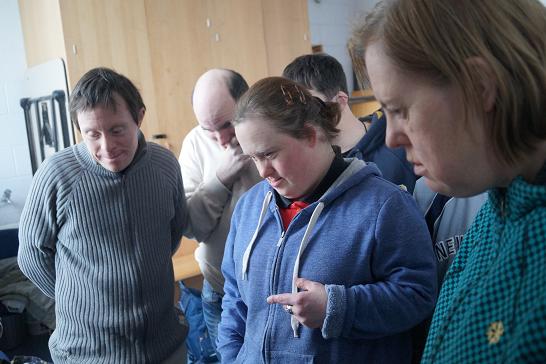 Gemma has recently designed and facilitated workshop programmes in the Mermaid Arts Centre in Bray and Aras Inis Gluaire in Mayo and is now opening up this tailored programme around the country.
Since 2001, Gemma, through Shadowbox and her own freelance practice, has been creating and touring her own brand of visual theatre both in the Ireland and internationally. In performance, she explores visual expression in hand with exploration of real life experiences in order to stimulate and awaken audiences.
There are many possibilities within the creative learning work. Activities are tailored to the group we are working with, so no two workshops are the same. We are open to the possibility of working with all groups, including young people and schools. Please contact us to talk in more detail about how we could work together.
How long can it be?
1 day
1 week residency: can conclude with a presentation
10-12 week residency: one day a week
Costs begin at €200 incl. VAT, and travel and accommodation where necessary.
For further information or bookings contact
admin@shadowboxireland.com
Tel: 0863451457
www.shadowboxireland.com

Previous Organisations worked for:
Aras Inis Gluaire, Ard Aoibhinn-Wexford, Blanchardstown Hospital-Therapeutic Unit, Clonskeagh Hospital, Community Day Service Unit-SCR Dublin, Droichead Arts Centre, Fingal County Council, Golden Circle –Rathdangan, Health promotion unit -East Coast Area Health Board, HSE South Eastern Region, HSE Health Promotion Department, Inclusion Ireland, Irish Wheelchair Association, Kinvara Nursing Home, KCAT-Kilkenny, Limfjordsskolen -Denmark, Mencap UK, Mercy Order -Roscommon, Mermaid Arts Centre, Mullingar Arts Centre, Nagle Rice Experience -Wexford, Our Lady of Fatima School, Rehab Care, Sheatre Ontario -Canada, St. Mary's Hospital -Phoenix Park, Sunbeam House Services, Wexford Arts Office, Western Care.
Spring Training in Visual Theatre
In association with
Mermaid County Wicklow Arts Centre
Starting from 11th April 2016
Mondays 10.30-3.30
Cost: €200 for 10 week course
Mermaid Arts Centre, Main Street, Bray
Mermaid Arts Centre will be holding a spring training course in visual theatre for adults with intellectual disability. The workshops will be facilitated by Gemma Gallagher from Shadowbox running every Monday for 10 weeks. The course is intended for people with some experience of theatre who wish to build their knowledge and skills.
The workshops will explore the creation of visual theatre, drawing on the instincts and emotional language of the participants. The work will focus on the creation of ensemble, and how collaborative work can strengthen the creation of new and vibrant theatre.
Over the weeks the course will look at Heightening Sensory creativity and imagination, improvisation, use of music and sound in theatre, NON verbal communication, ensemble work and Devising techniques.
The aim is to build confidence in the participating actors and to encourage the creation of visual theatre through the exploration of simple stimulus such as art, work, everyday objects, stories in the news and what is important to the group themselves.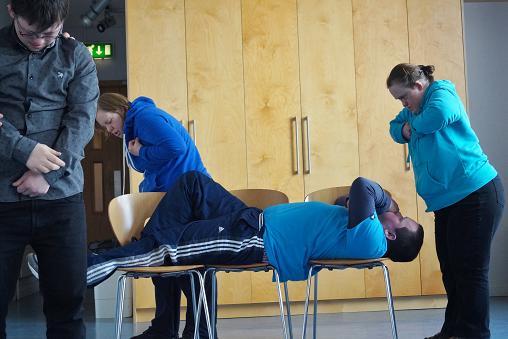 Further Information see www.shadowboxireland.com
Places will be limited so please book as soon as you can.
Bookings: contact admin@shadowboxireland.com or 086 3451457